18 February, Friday
by
Angela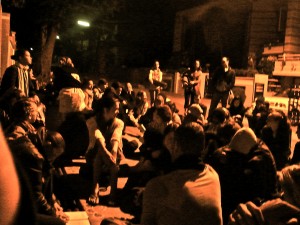 Full moon today. The rest day comes as a relief, unlike most full moons—when the practice of not practicing asana more often brings out my rough edges. But things have been a bit overscheduled lately, as you know; so instead of joining friends for a weekend trip to the hilly coffee region of The Coorg or the progressive beach province of Kerala, I'm staying close to home.
Slept in this morning until six: a big change now that I've given in to the reality-shift of a 2:45 wake-up. Then scrubbed up my linens and scrubbed down the apartment – once a week through that ritual works for roach prevention, and makes time to catch up on news podcasts. Events in the Middle East and US politics continue to amaze, but what really transports me as I sit here are images of Ann Arbor: quiet, clean snow, and later of sun and the Huron melting at the edges. That dynamic of blizzard and thaw and back to the cold is strong beauty. I hope you've enjoyed it, and that the contrast enlivens your awareness and practice.
In the last chapter of Cutting Through Spiritual Materialism, Chogyam Trungpa describes vajra—the strong, grounded clarity one needs for her awareness to mature—as having the feel of deep, Northern winters. Mirror-like, luminous, and precise: "not desolate, but full of thought-provoking sharpness."
From here, the way south India reflects in my interior life contrasts dramatically with the felt sense of Ann Arbor—which stays with me constantly. But here amid Mysore springtime, there is no diamond-like incisiveness, and little that's cool or clear. No sparkling water or crisp air—or the sense of flow or clarity they bring.
What we have is a heat that keeps the coconut oil in my wardrobe liquid all night—healing heat that is seeping in to the shoulders and psoas muscles of younger practitioners now finding (as I did in the first two trips here) new body-openings they didn't know were possible. While the heat is rarely stifling, we also have air thick and heavy with humidity. When I go to the city in the afternoon, a layer of gasoline-laced rickshaw exhaust coats my sinuses and maybe even the lungs. This is air that makes me feel breathing's real physicality. May I mention (again) the usefulness of a neti pot?
And we also have the food of south Indian Spring: soft gourds that take on the spices they're cooked in, cucumbers (ones you'd recognize, plus a crazy, spiky variety), beets (usually served with a few sprouted mung beans- thankfully both Tim and Elizabeth taught me to love beets last summer), eggplant and tomato (no nightshade problems for me here, unlike back home), spinach, radish and fenugreek, amaranth greens, papaya, pineapple, banana, mint, cilantro, basil, and so on.
Vegetable-ogling at the Farmers' Market was how I began to learn the rhythms and deeper logics of Southern California, and this year Washtenaw County, but I've had little time yet for morning thrill-walks through Devaraj Market downtown. So far, and so much the better, I find them in a few home-cooking restaurants—living room lunch places reminiscent of Ann Arbor's foodlover underground. If you run down their phone numbers to reserve in advance, there are several women who will cook a meal for you and a few friends: each lunch is five to ten light, nearly vegan dishes offered with confidence, happiness and even love. And with hot, fresh chapatis—as many as you care to wait for off the griddle.
But wait a second, Amy: the veganism ends at dessert—a warm chapatti dusted in jaggery and drizzled in ghee. That may sound like just tortilla with sugar and butter, but no… under these conditions it becomes a kind of perfect food. Well, at least as perfect as the following course, which combines three elements I considered toxic during the years my practice focused on inner purification: whole milk, black tea, and white sugar. But for now, for here, chai is my touchstone for the calm alertness provided elsewhere by espresso or kombucha tea. To every drink, a season.
Anyway, I guess I love place the way fiction-readers love character. I'm especially fascinated by the idea of sister cities—the political, cultural, sensory contrasts that arise when people link two faraway places together in experience. The Ann Arbor-Juigalpa Sister City Committee once so inspired me that I contemplated turning them into a research project. But at present that sisterhood is defunct, so I'll continue to use experience to knit together some kind of Mysore-A2 sisterhood.
Around 8 a.m. this morning, I strung up the laundry on the roof, where the heat will dry it by afternoon, and where I'll watch kids play soccer in the field below while I fold it all up this evening. Then I came down to the kitchen table and spent an hour re-reading the email notes I've received from you the past month. Thank you so much for the news and the smiles. Until this past week, my schedule here has been very full, but now that there's a spot of calm I'll have time to write.
So, ok…. for those who have read this far and tolerated so much talk of laundry and vegetables, here are some news. First, Rob and I are presently finalizing our contract negotiations with the University of Michigan. He'll accept a tenure-track professorship to begin in Fall of 2012, after he completes the post-doc in the Society of Fellows. And I've been offered a contract for the position I requested: adjunct faculty in the Department of Sociology. Our attitude toward all this mixes gratitude, satisfaction and excitement. We love the UM Soc department, and are at times just a little shocked that our dream of staying in Ann Arbor is coming true.
Second, Sharath called me in to his office last Monday, and asked me to teach the yoga. During that conversation, I said I'd stay in Mysore to practice with him until the end of March. The authorization thing is what we make of it: I interpret it as the time arriving for me to give back more to the practice I love. In other words, to me it comes as a request that I enlarge my own practice beyond personal refinement of its shapes and numbers and rhythms. Ok, yes. I'm delighted. And I appreciate that, in asking me to teach, Sharath noted this means a professional sacrifice in terms of my academic ambitions. But most importantly, being sort-of secretly sentimental about these things, I'm grateful for this not only symbolic—but emotional and energetic—connection between Sharath, the global community of practitioners, the KPJ Institute, and us in Ann Arbor.
The formal authorization is called Level 2, which is just more institutional stuff we don't have to worry about for now, except to note that it's a more senior qualification that it reflects perhaps 14 or 15,000 hours (from what we can figure) of asana and pranayama practice, assisting and teaching so far. In that sense, Level 2 is not precocious, but rather a designation of a pretty weird level of interest in this practice.
When I talk about teaching yoga, I do not mean the diverse swath of American hatha yoga I sampled in LA a decade ago. There is some refined energy and penetrating awareness in that world, and I respect much of it; but my ashtanga practice is strictly a person-to-person (not internet, DVD, or book-based) transmission combined with daily personal practice. I have always had a teacher and always will. It's jut that this particular method works by accepting information and feedback through relationships.
In case this interests you because you practice with me, I'll add that I personally began teaching because, and only when, I was asked. I neither paid my ashtanga teachers to train me nor was paid to assist them. This is not the only good way to develop a teaching practice—especially in the modern world. But it can serve oddly well in said modern (sometimes confused and shallow and chaotic) world. In any case, the astanga method and its apprenticeship system nourish people because they're living institutions. It's possible to be sincere about practice without getting all goshdarn serious.
Thus far, with periodic exceptions, this hasn't been a difficult path. Personally, clarity of method and my own intentions have kept me from diluting my energy with the small questions of what class to take and what shapes to make. This enabled me to focus on graduate school, and in the meantime mine practice for its deeper riches: refinement, flow, focus and insight that have only a little to do with outer form. I started with a search for physical healing and mental power, and wound up in love with practice. And I'm in love still, so more than ready to sign the teaching papers I'll pick up this week.
I'm so thankful to you all for your support and community, and for bring this teaching out of me. And also: for putting up with how much I have to say once I start to writing…